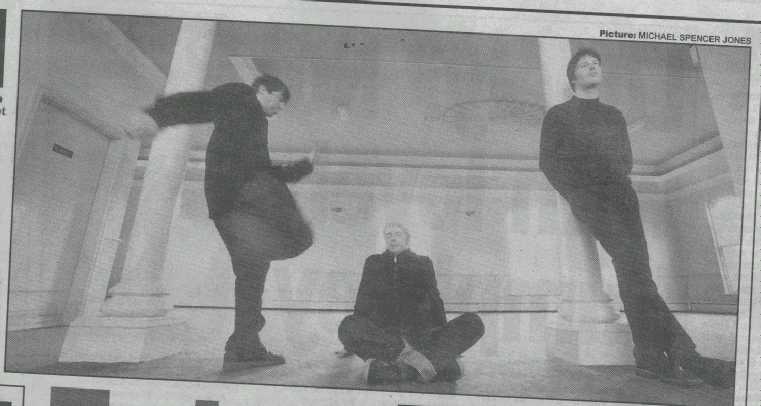 (Photo : Michael Spencer Jones. Please see credits page).
(R-L : Andy, John & Pete)

John Harold Arnold Bramwell - Guitars and Vocals.
Peter Jobson - Bass Guitar.
Andy Hargreaves - The Drums.
The much lauded and tip-top band I Am Kloot formed in the Summer of 1999. Some of you may well remember that vocalist John Bramwell was once called Johnny Dangerously in a previous life. Johnny is a veteran of many bands from in and around Manchester including Ignition, The Face Brothers, Five Go Off To Play Guitar, and more recently, The Mouth, which also included Bryan Glancy. In amongst that lot, he's also done some sterling solo work which includes a near legendary mini-album 'You Me and The Alarm Clock' and singles "This Town & Mary" and "Introducing Jane. He also toured with Manchester Poets Lemn Sissay and Henry Normal as 'The Last Poets Society' in the early 90's.
Cover of "Bang / Never On Time" - The Mouth's single from 1995.
Johnny was the promoter of Acoustica Mancunia at the Night and Day Cafe in Manchester between 1997-99 and it was here he met Peter Jobson and Andy Hargreaves and went onto form I Am Kloot after the dissolution of The Mouth.
I Am Kloot's first single "Titanic / To You" was released in December 1999 to much critical acclaim, and the follow up "Twist / 86 TV's" has cemented I Am Kloot's reputation. The long awaited debut album, with Elbow's Guy Garvey in the producers chair was released in March 2000.